Mass Testing at Little Lever School
We are working to keep our school as safe as possible. You may have heard that testing for those without coronavirus symptoms is beginning across the country using new, quicker COVID-19 tests known as 'lateral flow device' (LFD) tests.
Along with the other protective measures we are taking, these tests will help staff and students to remain in school safely. Up to one third of people who have coronavirus experience no symptoms. By testing we will help to stop the virus spread and help to keep our school open as safely as possible. The test is voluntary, but I would encourage everyone to take it.
I understand students, parents/carers may feel apprehensive about testing. We have created this webpage which includes video guidance from the NHS national testing programme, leaflets and posters to guide and support students and parent/carers from Public Health England and an FAQ section which we hope will alleviate any apprehension.
The videos below highlight the importance and success of initial testing pilots in schools.
Lateral Flow Device (LFD) testing and how it works
The Lateral Flow Device (LFD) tests are used with students who don't display symptoms. These tests are trying to find students who may have no symptoms but are infectious.
This type of test is very good at identifying students who have lots of the virus, and are infectious on the day, but isn't as good at finding the virus in students who aren't infectious yet (i.e. early in the infection), so they are a kind of spot check test.
The testing involves processing a nose and throat swab sample with an LFD. The LFD looks like a simple pregnancy test and detects a COVID-19 antigen that is produced when a person is infected with COVID-19. If this antigen is present, then a coloured strip on the LFD will appear to show a positive result in a similar way to a pregnancy test.
This is different from the Polymerase Chain Reaction (PCR) tests that have been carried out at public testing centres across the country, which work in a different way, as the swab kits go to the lab rather than be tested on site.
The PCR tests are better at finding very small amounts of the virus, especially early in infection, so these are used primarily in people who have symptoms and can be booked through the NHS website. It is important to note if anyone in your household displays COVID-19 symptoms you must book a test in the normal way.
If you have a positive lateral flow test you will be asked to book a PCR test.
How will LFD testing work at Little Lever School?
We have provided an initial outline of the process below:
Parents/carers need to provide consent for their child to be tested using the consent questionnaire on the Parent Portal.
Students who wish to be tested will be given an appointment time. This will state the time and date students will attend school to take their test. This will be sent to parents/carers in the week commencing 4th January.
Students will register at the dedicated reception in the sports hall on the day and time of their test.
Students will complete a supervised throat and nasal swab test (please see guidance 'How to do your test' below). Students that are unable to self swab will be assisted.
The testing processor will analyse the result and interpret the result as negative, positive or invalid.
Students, parents/carers will be informed if the result is positive. If the test result is invalid, students will need to repeat the test. In line with government guidance if the test result is negative students, parents/carers will not be informed. Students with negative results will be expected to attend school as normal.
Students that test positive will need to take a PCR test. Please see FAQ section below for further details on this.
Throughout the week commencing 4th January we trained a 'testing team' in line with strict government guidelines. This team is now trained to support and guide students through this process.
The whole registration and testing will take approximately 5 minutes.
The results of the test will be ready in approximately 30 minutes.
Students will take a second test and repeat this process 3 to 5 days after the first test.
Guidance for students… How to do your test?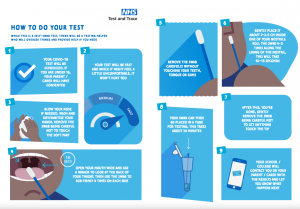 When will testing start at Little Lever School?
Once we have received consent from parents/carers we will organise an appointment schedule for every student in every year group. Parents/carers will need to complete the Consent questionnaire on the Parent Portal. 
Proposed testing schedule
Thursday 5th March: Year 11, Year 10 and Year 9n – Test 1
Friday 5th March: Year 9p, Year 8 and Year 7 – Test 1
Monday 8th March: Year 11, Year 10 and Year 9n – Test 2
Tuesday 9th March: Year 9p, Year 8 and Year 7 – Test 2
Thursday 11th March: Year 11, Year 10 and Year 9n – Test 3
Friday 12th March: Year 9p, Year 8 and Year 7 – Test 3
Return to school dates for students
Monday 8th March: Year 9p, Year 8 and Year 7 – IN SCHOOL
Tuesday 9th March: Year 11, Year 10 and Year 9n – IN SCHOOL
Wednesday 10th March: All years – IN SCHOOL
Thursday 11th March: Year 9p, Year 8 and Year 7 – IN SCHOOL
Friday 12th March: Year 11, Year 10 and Year 9n – IN SCHOOL