The Little Lever Curriculum
The curriculum in every subject will be personalised to meet the needs of EVERY student so EVERY student can ACCESS the curriculum and achieve SUCCESS.
It will develop thoughtful young people who have acquired a strong sense of moral purpose.
It will offer opportunities and experiences that will improve students' life chances, taking in to account local, national and global circumstances.
Whole School INTENT:  This maps out what we are going to teach our students in each subject in each Year group. Follow this link for the whole school curriculum map.
How do we IMPLEMENT our curriculum?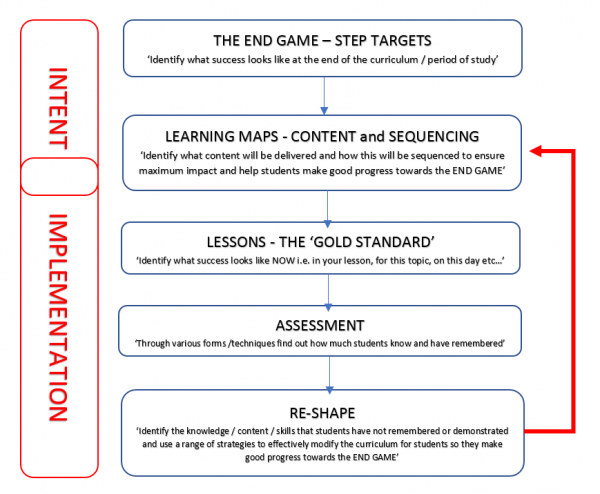 Impact
The desired impact is that:
EVERY student makes 'Good' progress (they know more and remember more) towards their 'END GAME'.
EVERY student achieves outcomes that are better than the national average in the subject they study.
EVERY student engages and completes their Life Chances Plan.
EVERY student has a successful 'destination' after their time at Little Lever.
A bit more detail on how we implement the Little Lever Curriculum…
The End Game – Step Targets
For each student we will identify what success looks like for them at the end of their 5 years at Little Lever.  This will be personalised around the needs and starting points of every child.  We expect all our students to reach the high standards we set.  Each student is asked when they enter Little Lever to state their aspiration for the future.  We set students targets in each of their subjects that are aspirational and will therefore open the doors to their future aspirations.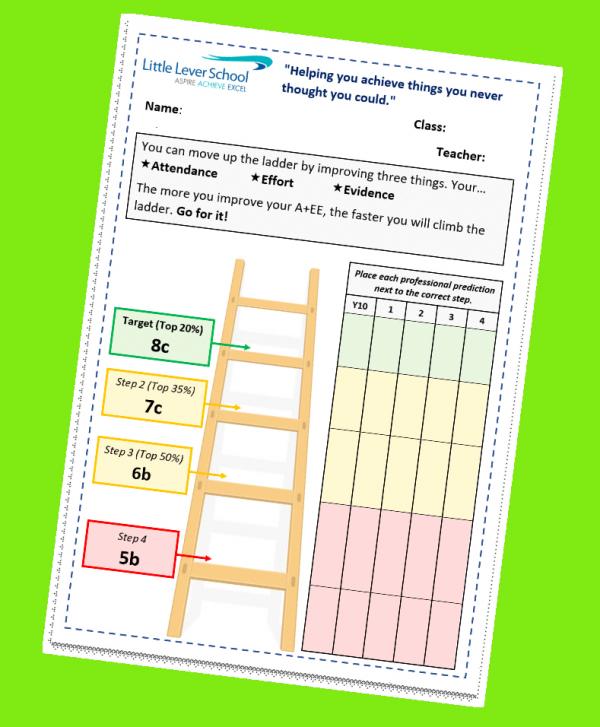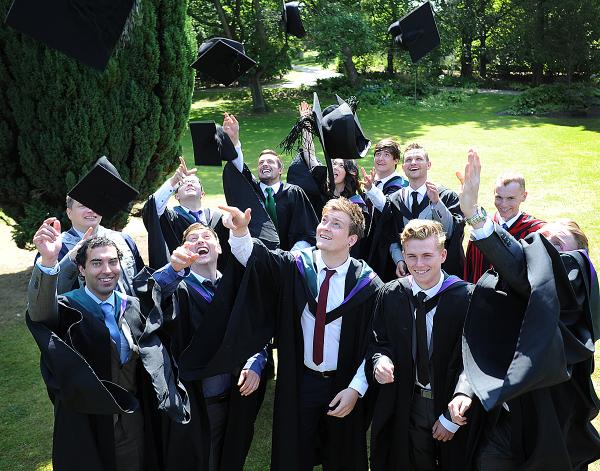 Learning Maps
Learning maps do exactly what they say on the tin… they map out the journey our students will take in each of their subject areas.  It shows you what we are planning to teach students in each subject and when we are planning to teach it.  This is carefully thought about to ensure we build the essential knowledge and skills that underpin the subject curriculum.
The journey students take through their learning map is personalised.  For some topics it may take students longer to remember the essential knowledge but it is crucial we respond to this in order to give all our students the essential building blocks which supports their progress through the curriculum.   This may mean spending longer on particular topics or revisiting them throughout the curriculum or interleaving (linking this with other topics) topics to really help students remember and begin to link the essential knowledge in their subject and then across different subjects.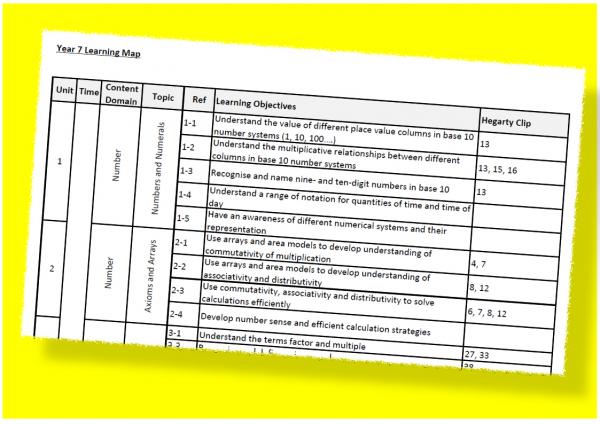 The 'Gold Standard'
In each lesson or over a series of lessons students will be set a Gold Standard.  This is an example of what the best piece of work looks like for a specific topic or aspect of the curriculum.  It shows students clearly what success looks like and through the lesson or series of lessons students will aim to reach the Gold Standard through the work that they complete.  Teachers will constantly feedback to students and re-shape lessons in order that all students can reach the Gold Standard.
Assessment
Assessment happens through a range of different strategies.  Assessment happens on a DAILY, 2 WEEKLY and HALF TERMLY/TERMLY basis.
This is so we constantly know how well students have remembered the key knowledge as part of the curriculum and we know which areas of the curriculum are still areas that they need to improve.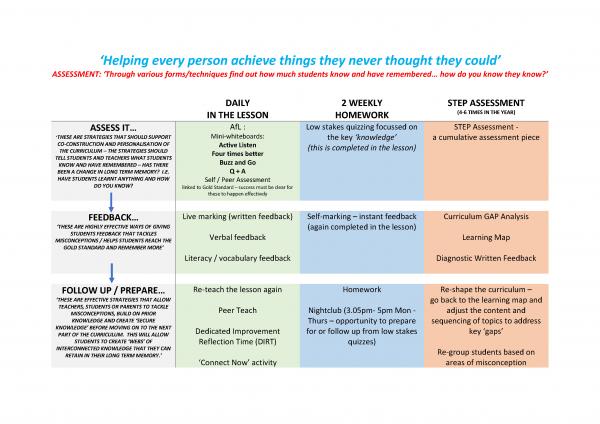 Homework
Homework is part of our 2 WEEKLY assessment strategy.  Our homework strategy is a way of enabling students to remember the key knowledge and vocabulary that will help them move through the learning map.  Students with the support of parents are expected to prepare and follow up from the Low Stakes quizzes every 2 weeks (please note that Low Stakes are set weekly for maths).  These low stakes quizzes will normally last no longer than 10 mins and students will get instant feedback on their answers in the lesson.  Students, parents and the teacher will be able to quickly identify the key 'knowledge gaps' that will prevent students from accessing other areas of the curriculum or prevent them from expressing their thoughts and ideas articulately.
Homework will be set via the SIMS parent app and will follow the timetable cycle: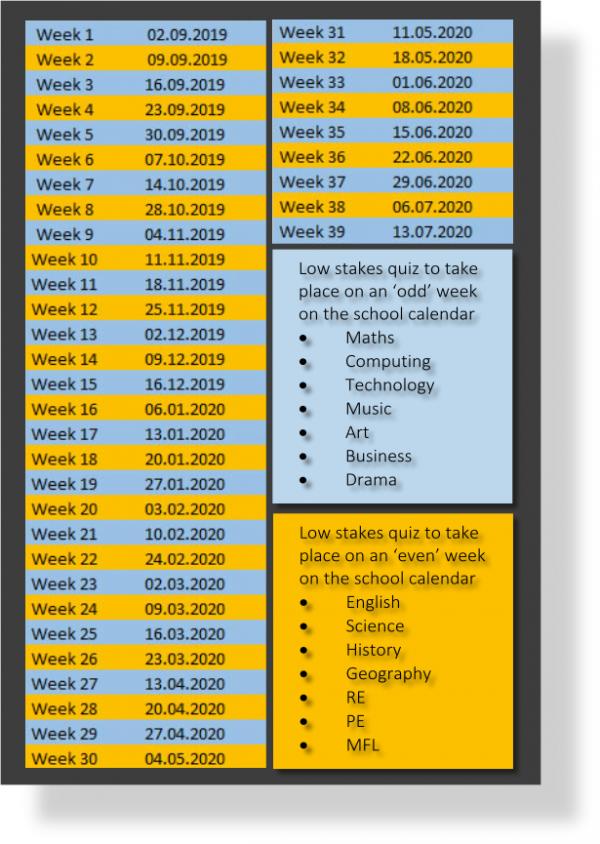 You will find resources and links to online platforms in the homework section for each subject.  These will give students access to the key knowledge and skills the require to make good progress through the curriculum.
Re-Shape
The Little Lever Curriculum is all about co-construction and personalisation.  A big part of this is ensuring students know what they know and what they don't know so they can improve the areas of the curriculum they haven't yet grasped.
Through our assessment systems we are constantly adjusting the curriculum in order that we address the key areas of the curriculum where our students do not have the necessary knowledge to make good progress.
Students and teachers use their learning maps to constantly address knowledge gaps and 'plug' the holes that will allow every student to achieve things they never thought they could!