Year 11 Steps to Success 2022-23
Our Year 11 Steps-to-Success programme supports students in becoming effective and successful students and leave school with the best possible outcomes, skills, knowledge and confidence to move onto the next stage of their learning journey.
We want to provide you with clarity and guidance on how Little Lever School is supporting students in these final weeks in school in readiness for their February mock exams and summer GCSE exams.
The content below will be updated on a regular basis as to what is happening in school each week. You will be informed as to when new content is added by text message.
In the run up to your child's Summer GCSE Exam series, it's important that not only their academic needs are being supported, but also their health and well-being.
We know that young people often regard good, long regular sleep and eating properly as a secondary consideration to wanting to socialise and interact with their friends or spend time online. Teenagers can get into bad habits with regards to being online too long, not eating nutritious meals regularly and not finding the right balance between sleep and work.
The next two weeks, leading up to their first exam and the five weeks which their exams cover, should be a time where they are looking after themselves a lot more to remain focused, refreshed and alert through what is a challenging and exhausting time.
Therefore, we have put together this guide, based on sound scientific research, to help you and your child navigate their way through the next few weeks and perform at their best, every day.
There are 3 main areas which everyone can reflect on and make positive changes to their habits; SLEEP, SCREEN TIME and STUDY FUEL.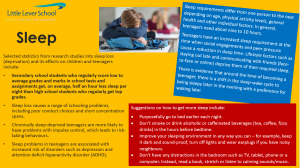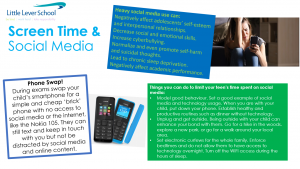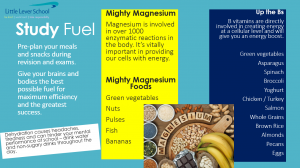 Little Lever Revision Cycle
Our Revision Cycle is a proven structue on how students revise effectively. This sits at the heart of preparing students for their February Mocks. Please view the illustration to find out more.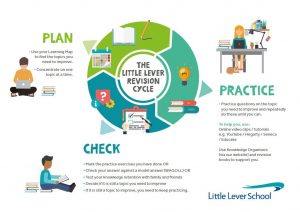 Revision Planners
Please watch the video below on how to help your child plan out their daily revision and home study and check which subjects and topics they are revising.
Please note that families must make this work for you. Whilst we recommend two 45-minute revision session each day, please work these around your own calenders and commitments.
How to revise effectively to know and remember more
To go alongside our Revision Cycle, we are delivering sessions in PREP time to all Year 11 students teaching them about the six best habits to use in becoming highly successful learners.