Thank you for all your amazing entries for the COVID-19 art competition which ran over Easter. The aim was to produce a piece of public health information art communicating how we need to stay safe and healthy during the coronavirus outbreak. We received a whole variety of entries from students of all year groups and we were very impressed by them all!
The entries were sent off to be judged regionally and we are delighted to announce that the winning entry was created by Teegan Spooner in Year 7 which was chosen by Dr. Jonathan Kershaw of Bradford Royal Infirmary.
Many congratulations, Teegan! Her design is pictured below.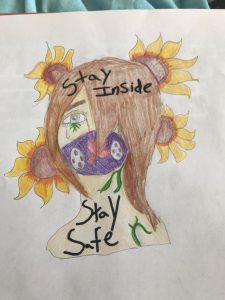 Special mention should also go to Bethany McGuffie's (Year 9) entry. The art team was very impressed with her quality of drawing, which you can see below.