The overarching aim of our expectations are to promote positive behaviour where students demonstrate kindness, they take responsibility for their actions and they work hard to manage and improve their behaviour at all times.  This is values driven.
We believe that PRAISE and positive behaviour management strategies are the most powerful way of developing a happy and purposeful school.  We believe in mutual respect and unconditional positive regard for young people.  We believe restorative approaches which develop strong relationships between adults and students are the best way to help students correct their behaviours.  We believe in the certainty of any sanction rather than severity.  We understand that there is always a root cause to a student's behaviour and we strongly believe that sanctions alone will not help students repair their behaviour.  We teach our students how to behave so they learn to be self-disciplined and make good choices.  We have firmly embedded routines and practices to establish a calm and purposeful environment.  A clear framework of 'habits' help support all our children to reach our high expectations. 
We want all of our students, during their time with us, to reach the top of the pyramid, meaning that they leave us as good citizens, and this is the rationale for our approach. We want our students to do this not only because they have to, but because they want to, and are mature enough to know how to do the right thing.
The pyramid below shows the reasons why students might behave well. We want all of our students to aim for the top of the pyramid.
I behave well because…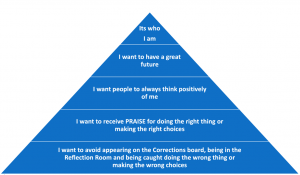 ---