Year 11 Steps to Success 2023/24
Our Year 11 Steps-to-Success programme supports students in becoming effective and successful students and leave school with the best possible outcomes, skills, knowledge and confidence to move onto the next stage of their learning journey.
We want to provide you with clarity and guidance on how Little Lever School is supporting students in their final year in school in readiness for their mock exams and summer GCSE exams.
The content below will be updated on a regular basis as to what is happening in school each week. You will be informed as to when new content is added by our usual communication channels.
Free breakfast for any Year 11 during the Mock Exams

To ensure students are properly fueled to perform at their best during their mock exams, we are offering every student a free breakfast from the dining room from 8am – 8.30am. A range of cereals, juices, fruit and toasted items are available for any Year 11 on the morning of an exam.

In addition, free tea/coffee and biscuit are available every breaktime during exam seasons.

Year 11 Parents' Evening: Thursday 12th October

Our second Year 11 Parents' Evening will take place on Thursday 12th October, 4.30pm – 7.30pm. The evening will be held in school, in our Sports Hall. You will still need to make appointments to meet your child's subject teachers using your School Cloud account.

Appointments are now live and can be made via the link below.

HTTPS://LITTLELEVER.SCHOOLCLOUD.CO.UK/

This evening will provide you with a range of information, guidance and practical resources to support you and your child in the lead up to, and through their GCSE exams. You will be provided with:

a revision planner in which to structure home study times and focus on key topics,
a face-to-face meeting with each teacher providing you with personalilsed feedback on the progress your child is making.

Rewards and Incentives

In the Spriung Term, students who receive 100 or more net reward points totals will receive a third off the price of the summer Prom ticket.

Everyone will be invited (as long as there are no serious misconduct issues)
Tickets are £32 – meal, DJ, photo booth
You can work towards a free ticket by accumulating reward points each term.
100 points = £10 off your ticket price
300 points = Free ticket!
YEAR 11 MOCK EXAM 1 REVISION PLANNER - ISSUED IN YEAR 11 ASSEMBLY ON 12TH OCTOBER 2023
GCSE Exam Season Arrangements

For the GCSE Summer exam series, all Year 11s will be able to access the following morning facilities.

The dining room will be open from 7.45am with a free breakfast open to any Year 11. Toast, McMuffins, fruit, tea, coffee and water are available as vital exam fuel.
Before the start of EVERY morning exam, 8am Pre-Exam classes will be available for any student who wishes to attend.
EVERY student must be on the yard by 8.30am at the latest ready to be registered and go through final exam checks before the start of the morning exams.

In addition, from Monday, we are making some changes to Year 11 break and lunchtimes, again to support students through this key time.

Year 11s will now have their break and lunchtimes on their own. Year 7 will have their break and lunch with Year 9. This means Year 11s can have full access to the library to study and prepare, and the dining room to refuel and refresh themselves before the start of the afternoon exams.
We are also extending Year 11 lunchtime from 30mins to 45mins. Lunch will start at 12.30pm to 1.15pm. However, if students have an afternoon exam, they will be asked to line up at 1pm to start their afternoon exam.

As parents/carers you can support your child by checking the night before with them which exams they have the following day (students have been given printed copies of their individual exam timetables, with times, exam room  and their seat numbers). Please also check their revision planners and that they are sticking to their two 45-minute revision sessions each day. Remember, we do have the Revision Room in school to support with this.
In the run up to your child's Summer GCSE Exam series, it's important that not only their academic needs are being supported, but also their health and well-being.
We know that young people often regard good, long regular sleep and eating properly as a secondary consideration to wanting to socialise and interact with their friends or spend time online. Teenagers can get into bad habits with regards to being online too long, not eating nutritious meals regularly and not finding the right balance between sleep and work.
The next two weeks, leading up to their first exam and the five weeks which their exams cover, should be a time where they are looking after themselves a lot more to remain focused, refreshed and alert through what is a challenging and exhausting time.
Therefore, we have put together this guide, based on sound scientific research, to help you and your child navigate their way through the next few weeks and perform at their best, every day.
There are 3 main areas which everyone can reflect on and make positive changes to their habits; SLEEP, SCREEN TIME and STUDY FUEL.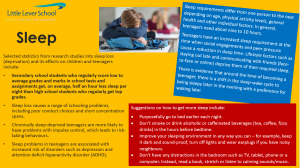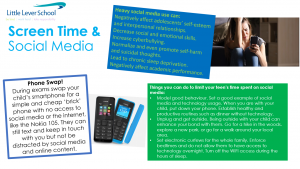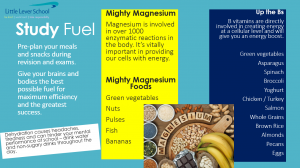 Little Lever Revision Cycle
Our Revision Cycle is a proven structue on how students revise effectively. This sits at the heart of preparing students for their February Mocks. Please view the illustration to find out more.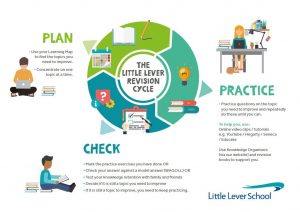 Revision Planners
Please watch the video below on how to help your child plan out their daily revision and home study and check which subjects and topics they are revising.
Please note that families must make this work for you. Whilst we recommend two 45-minute revision session each day, please work these around your own calenders and commitments.
How to revise effectively to know and remember more
To go alongside our Revision Cycle, we are delivering sessions in PREP time to all Year 11 students teaching them about the six best habits to use in becoming highly successful learners.