Our Curriculum
Our Options Process
Making informed choices
Our Options process is the gateway for our students to achieve qualifications at the end of their time at Little Lever which are the essential springboard for our students' life chances post-16. It provides them with the chance to study at college, university and achieve careers and opportunities which they never thought they could.
Our curriculum allows students to combine a core of English Baccalaureate subjects with others from a broader range to ensure that they keep their future options open.
Please read carefully the descriptions of all the courses that are on offer. To help make the right choice students will:
Have an assembly outlining the Options process
Be given the opportunity to read this page and discuss its contents with parent/carer and Form Tutor
Spend lesson time learning about the different courses on offer in their lessons
Students should also:
Conduct their own research about careers
Consider what their own skills are and what they want to do in the future
Seek advice from Mr Welch who is responsible for CEIAG (Careers Education, Information, Advice and Guidance) if they are unsure
Talk to their subject teachers about which courses are right for them
Speak to parents/carers.
The English Baccalaureate (Ebacc)
This qualification will automatically be awarded to any pupil who achieves a GCSE grade 5 or above in Maths, English, Science and either a Modern Foreign Language, Separate Science, Computer Science, Geography or History. The idea of this is to identify pupils who have a broad spread of academic qualifications. If you are considering going to University and in particular the Russell Group Universities, then this qualification is highly recommended and the appropriate GCSE choices must be made.
The Key Stage 4 Curriculum
The 'Core' curriculum, meaning compulsory subjects that are taken by all pupils, is as follows:
English Language and English Literature, Mathematics, Combined Science, Physical Education and Life Chances.
In addition, the 'options' curriculum offers pupils a range of learning choices giving access to:
Computing, Business and Media, Separate Sciences, Creative Subjects, Humanities, Modern Foreign Languages, Sport and Technology.
Equality & Opportunity
At this stage in school life, it is important for all pupils to choose subjects carefully and to keep career options open. It is recognised that any gender can work and succeed in any area. In the past, it has been very common for different genders to go for what might have been considered traditional gender specific subjects at GCSE time.
At Little Lever, we encourage pupils to move away from this and make open, informed choices in which personal ambition is a key element. We are committed to providing a challenging and rewarding curriculum for all pupils. Each year we take care to review our options curriculum and to introduce new opportunities that we believe will meet the needs of our pupils. Whilst we are unable to guarantee that we can meet the first choice of every pupil, we will try our upmost to meet his or her choices as far as we are able. There are limitations to numbers for some courses so some pupils will find that alternatives may be necessary.
Every course on offer is open to all genders.
There are no barriers on the grounds of gender, race or disability, and where possible, we endeavour to provide all pupils with the opportunity to study the subjects of their choice at an appropriate level to their abilities. This however, does not mean that we will allow pupils to take subjects in which their chances of success are slim. In these cases, pupils will be guided in alternative directions.
How to make your Option Choices
On your Parent Portal you will find an Option Choice Form 2022/23. Students, with their parent/carers, select and submit your option choices to the school via this form. Parent Portals can be accessed via the home page of our website. Once in your Portal, you will find the Options form to complete and submit in the 'My Forms' section of your page.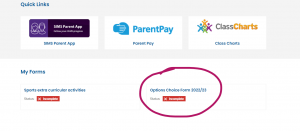 DEADLINE FOR SUBMISSION OF THE FORM IS FRIDAY 16th DECEMBER 2022 at 3pm
---
Choose one subject from the Group 1 Options list below and make a reserve choice. They then select two subjects from the Group 2 Options list and two reserve choices.
Group 1 Options – students' first choice will be one of the following:
Computer Science, French, Geography, History, Separate Sciences, Spanish
Group 2 Options – students choose two from the following:
Art & Design, Hospitality and Catering, Business Studies, History, Geography, Computer Science, Music, Creative Media, Music Technology, Design Technology, Sport Studies, Digital Information Technology, Photography, Drama, RE, Fashion and Textiles, French, Spanish.
Making Your Choice
In making the choices, students should consider:
Which subjects are their best
Which subjects they enjoy
Which subjects their teachers recommend
If they have checked with everyone who can help and advise them.
How not to choose
Don't choose a subject just because they like the teacher. It may be that they do not have the same teacher next year!
Don't choose a subject because their best friend chooses it. It may be right for them but not for you!
Don't choose a subject because it looks easy – all subjects involve two years of continuous hard work and commitment.
Remember
No system of GCSEs can please everybody
Pay careful attention to all GCSE choices, as they could end up with any combination of the subjects picked
Although every effort will be made so students can follow their first choices, it may not always be possible.
Examination Courses
Most courses are offered for examination at GCSE level. Most subjects will be graded from 9 to 1. The 9 grade is designed to identify the most able pupils. In maths, science, French and Spanish, there are two tiers of examination, higher and foundation. Technical Awards are equivalent to one GCSE and graded as pass, merit, distinction, distinction*. In some subjects your child will be placed in a set which best suits his or her ability.
Parents should note that the final examinations take place in the period mid – May to end of June of Year 11. However, some subjects will have official assessment pieces during Year 10 and 11.
Controlled Assessments / Coursework
Some GCSE / Technical Awards involve the completion of set assignments, which are formally assessed with the marks contributing towards the final grade. It is essential that the controlled assessments / coursework be completed as failure to do so could jeopardise final examination entry.
Examination Entry
Final examination entry for any subject depends upon a number of factors including:
Completion of controlled assessments where relevant
Good attendance (minimum 97%)
Completion of internal examinations
Evidence of achievement at Grade 1 or above
Advice
Impartial guidance and information from the school Careers Co-ordinator, Mr Welch, will be available for all pupils during Years 9, 10 and 11. Pupils will take part in a number of sessions providing them with information for the various stages of their school life which will help guide pupils to consider a wide variety of possible careers, look at college choices and also consider the 'Work with Training' options and Apprenticeships available in the area. Careers advice is there to assist in future planning, deciding what to do next and considering all the opportunities. The government has raised the participation age which means that all pupils are required to continue into post-16 education or training. Currently, they will also need to repeat GCSE English and Maths if they do not secure at least a grade 4 at school.
The school purchases the following website to help students research careers and identify their skills, aptitudes and interests in this area.
Also visit our own Careers page below for guidance on post-16 destinations.
Option Process Timeline
Monday 31st October 2022: Option Forms published on Parent Portals
Tuesday 1st November 2022: Options Information Evening 6pm – 7.30pm
November 2022: Options Assembly with all Year 9
Autumn Term 2: Option Taster Lessons
Friday 16th December 2022: Option Form submission deadline
Summer Term 2023: Option choices confirmed
Core Subjects
GCSE English Language & Literature
Examination Board: AQA
All pupils will study GCSE English language and literature. The three-year course will include a range of fiction, non-fiction and literary texts. Pupils will uncover a range of skills across reading, writing and speaking and listening.
How will I be assessed?
GCSE English Language:
There are two final examinations worth 100% of the total marks, which test:
Your exploration of creative reading and writing

Your understanding of writers' viewpoints and perspectives
GCSE English Literature:
There are two examinations for English literature which are worth 100% of the total marks. These examinations test your knowledge and understanding of:
Shakespeare and the 19th-century novel
Modern texts and poetry
How can I progress from this?
English provides the crucial foundation for a wide range of other subjects. Key stage 5 qualifications in related subjects include: AS and A level English language, AS and A level English literature, AS and A level English language and literature, AS and A level Creative writing.  These qualifications could lead to a wide variety of job opportunities including teaching, copywriting, journalism, business and advertising, public speaking and administration.
GCSE Mathematics
Examination Board: Edexcel
The course is designed to develop a wide range of mathematical skills and techniques, which can be used in everyday life, as well as fostering the ability to solve problems and reason logically. The course content includes:
• Number
• Algebra
• Ratio, Proportion and Rates of Change
• Geometry and Measures
• Statistics and Probability
There's an emphasis on problem solving and mathematical reasoning, with the majority of marks now being allocated to these higher-order skills.
Assessment criteria:
The course is assessed 100% by examination across three papers as detailed below:
Paper 1 Non-Calculator, 80 marks, 1 hour and 30 minutes
Paper 2 Calculator, 80 marks, 1 hour and 30 minutes
Paper 3 Calculator, 80 marks, 1 hour and 30 minutes
Those pupils sitting the Foundation paper will be able to achieve grades 1-5 whilst those sitting the Higher tier will be able to achieve grades 3-9.
How can I progress from here?
Maths is one of the best subjects to develop your analytical, research and problem-solving skills. Not only will studying maths help give you the knowledge to tackle scientific, mechanical, coding and abstract problems, it will also help you develop logic to tackle everyday issues like planning projects, managing budgets and even debating effectively. People who achieve strong Maths qualifications can go into: accounting, medicine, engineering,
forensic pathology, finance, business, consultancy, teaching, IT, games development, scientific
research, programming, the civil service, design, construction and astrophysics to name a few.
GCSE Combined Science Trilogy
Examination Board: AQA
GCSE Combined Science is studied in years 9 – 11. Science is a dual award and you will gain two GCSE grades from this subject. Science topics include:
• Cell biology
• Inheritance, variation and evolution
• Ecology
• Energy
• Infection and response
• Electricity
• Forces
• Waves
• Organic chemistry
• Structure and bonding of matter
• Bioenergetics
• Magnetism and electromagnetism
• Homeostasis
How will I be assessed?
You will sit six examinations – 2 each from biology, chemistry and physics – each lasting 1 hour and 15 minutes. All exams carry equal weighting (16.7% of your final grades), and all will take place at the end of year 11. From these, you will be awarded two GCSE grades.
How can I progress from here?
Science is an important subject for career paths such as electrician, pharmacy, teaching (both primary and secondary!), veterinary nursing, environmental careers, sports science, psychology, hairdressing, robotics,
game theory, etc. the list is endless. With a minimum of two 6 grades in combined science you can go on to study an A level in a science discipline and then on to study a degree in an area of science, or a science related discipline (e.g. nursing, dentistry, medicine, engineering). In a recent survey of the top paying jobs based on specialisms, 6 out of the top 10 highest paying careers were in science or science related disciplines (STEM).
Physical Education (Core PE)
At Key Stage Four, it is compulsory for all pupils to participate in Physical Education.
The PE department aims to provide an enjoyable, satisfying and balanced programme with opportunities for all pupils to develop spiritually, mentally, socially and culturally. It is our intention to cultivate pupils' natural enthusiasm and although enjoyment is high on our list of aims, all areas of work must be taught and not 'played at'. Lessons should be structured and progressive and the pupils should gain their enjoyment as a result of their high effort, hard work, team play and participation.
At Key Stage Four, pupils are offered football, netball, dance, bench ball, dodge ball, table tennis, HRF, badminton, cricket, rounders, softball and athletics.
Pupils will be encouraged to improve:
Their ability to plan, perform and evaluate games and individual activities.
Their knowledge, skills and understanding of a range of activities.
How to develop and maintain a healthy and active lifestyle to support physical and mental health.
Our long term goal must be that all pupils will understand the importance of Physical Education and a healthy active life style. They should leave school with a committed interest in some physical activity or at the very least have an appreciation of what is involved in skilful performance so that they may become knowledgeable spectators.