What is happening with Transition this year?
It is likely schools will be asked to open for specific year groups very soon. If this is the case we hope to complete all aspects of the transition programme remotely and this webpage is dedicated to ensure all our parents and carers have all the information they need in order to ensure our new Year 7 students make a great start at Little Lever.
We are still awaiting guidance from the government around re-opening school in September. As soon as we have received the guidance and have completed our planning we will communicate our plans for re-opening in September with all parents and carers.
We hope we will have the ability to meet all our new Year 7 students in September. As part of our planning we will aim to bring our new Year 7 students into school first so we can welcome them properly and ensure they recieve our Little Lever induction programme.
We will keep you updated with the latest government guidance regarding schools re-opening in September.
We very much look forward to meeting you all!!
Our School Uniform
We have a strict uniform policy.  This is to ensure students are preparing themselves for the world of work and life beyond their 5 years at Little Lever.  In many jobs students will have to wear a uniform or specialist equipment.  We want to teach our students the value of this.  We also want to ensure every student feels part of the Little Lever team.  When students wear our blazer they take on the responsibility to leave the blazer in a better place.  This means they represent our community when they wear our blazer and they must represent our community in the right way.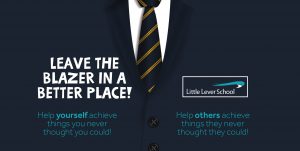 We insist on black leather shoes and we will not deviate from this.  We do not allow trainers of any type.
Students are only permitted to wear a wrist watch.  Rings, earrings, piercings and bracelets are not to be worn.  If students arrive to school with jewellery on it will be confiscated and a C3 detention will be issued.  Again, we want students to take responsibility for the choices they make.  We have set out a clear uniform policy and our expectations will not change.  The responsibility lies with the student to make the right choice.
If students are going to have piercings we recommend students have these done over the summer holidays.  We will not accept any reason for wearing jewellery other than a wrist watch.
Our Uniform Stockists
We have contacted the vast majority of stockists who are operating at limited capacity currently but many are still operational through their websites which you can find below…
Whittaker's Schoolwear, Deansgate, Bolton 01204 389485
Smart Clothing, Blackhorse Street, Bolton 01204 392610
PTS School Wear, 7 New Road, Radcliffe 0161 723 0991
Ziggys, Brackley Street, Farnworth 01204 577211
Our Reading Recommendations
As stated above, a reading book is a compulsory aspect of a Little Lever student's equipment. Reading is an important and vital part of our school. It is the bedrock of good literacy skills and the gateway to performing effectively in EVERY subject.
Our English team have provided their recommendations of which books your child should be reading for both pleasure at home and to support their academic performance in school. We recommend these should form a part of their essential equipment for school.
The Little Prince by Antoine De Saint-Exupery
My name is Mr. Lloyd and I recommend the book 'The Little Prince' by Antoine de Saint-Exupery. It tells the story of a little boy who leaves the safety of his own tiny planet. Over time, the Prince learns what it means to grow up and become an adult, and gains the wisdom of how he should live his life. 

My favourite line is:

'What makes the desert beautiful,' said the little prince, 'is that somewhere it hides a well'.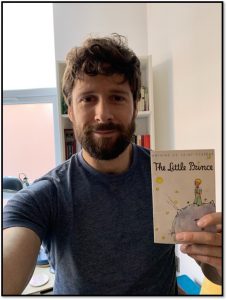 The Hitchhiker's Guide to the Galaxy by Douglas Adams
Hi, I'm Mr Reynolds and The Hitchhiker's Guide to the Galaxy by Douglas Adams is one of my favourite books.  I'm a big science fiction geek.  Earth has been demolished to make way for a new road through the galaxy and now Arthur Dent is the only man to survive.  
It's a tale of adventure, philosophy and a depressed robot called Marvin!  It asks us questions about who we really are and what is the meaning of life.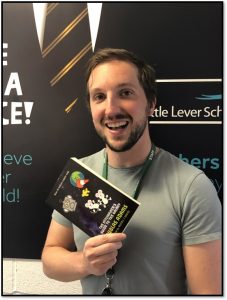 The Graveyard Book by Neil Gaiman
Hi, I'm Miss Hutchinson and I would recommend the Graveyard Book by Neil Gaiman to anyone who is looking for a little bit of fantasy fiction.
It tells the story of a young boy called Bod who is adopted and raised by the spirits and supernatural elements in a graveyard.  After a difficult start in life, Bod finds friends in the most unusual of circumstances and his life is changed forever.
The book has many twists and turns, making it difficult to put down once you start reading it. 
Hope you enjoy it too!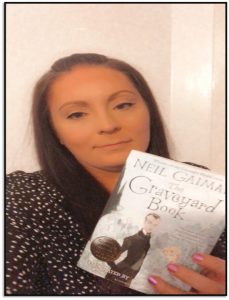 Frankenstein by Mary Shelley
Hi, I'm Miss Crook! I would recommend the book Frankenstein by Mary Shelley because it questions who the real monster of the novel is and it's really gory and gripping!!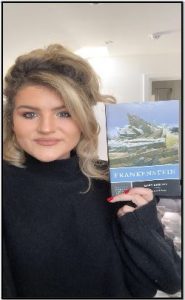 Alice's Adventures in Wonderland by Lewis Carroll
Hi, I'm Miss Hughes and I would recommend the book 'Alice's Adventures in Wonderland' by Lewis Carroll because it's all nonsense! It is nonsense truly, but it is not meaningless nonsense. 
"Everything's got a moral, if only you can find it" 
Wonderland is the place for the imagination. It is the place to dream and to escape. Wonderland is for everyone – including you!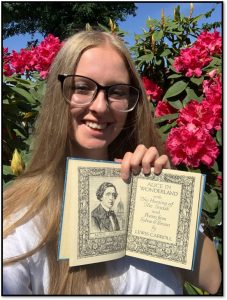 Harry Potter and the Cursed Child by J.K. Rowling
I'm Miss Coope and I recommend the book Harry Potter and the Cursed Child by J.K. Rowling.

I really enjoyed reading this book and would recommend it to you! ​The layout is slightly different as it is scripted, but I thoroughly enjoyed reading about Harry's life after Hogwarts!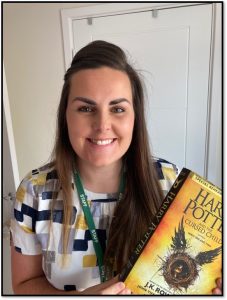 Blabbermouth By Morris Gleitzman
My name is Miss Calvert. I would recommend reading 'Blabbermouth' by Morris Gleitzman because it is not only hilarious but teaches us how our struggles and difficulties in life do not limit our potential. 
I find the main character Roweena very inspiring.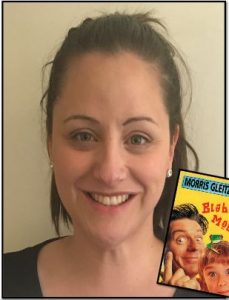 Shine by Kate Maryon & Boy by Roald Dahl
Hi I'm Mrs Fernside and I would Like to recommend two books to you as I wanted to appeal to you all.
The first is 'Shine' by Kate Maryon. It is a good tween book appealing to age 10-12 year old girls. It's an engaging story of a girl who lives a lavish life with her mum, until it all goes wrong over night. She has to move away with strangers and start a new life, learning to trust adults again! I think you'll really like it!
---
The second has to be 'Boy' by Roald Dahl. It's like an autobiography of certain events from his life retold as short memories. It's funny reading what he did as a child and what he got in trouble for! 
Hope you enjoy them too!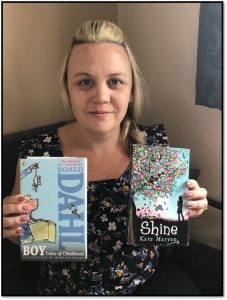 Number The Stars by Lois Lowry
Hi, I'm Ms Sofokleous and I recommend 'Number The Stars' by Lois Lowry, which is a gripping story of courage and hope.
It is set against the real-life backdrop of the Second World War in Denmark. The main character, ten-year-old Annemarie, bravely faces terrible danger to help her best friend whose family is under threat from the Nazis because they are Jewish. 
---
If you are a fan of wartime drama, you might also enjoy 'Carrie's War' by Nina Bawden, 'Goodnight Mister Tom" by Michelle Magorian and 'When Hitler Stole Pink Rabbit' by Judith Kerr.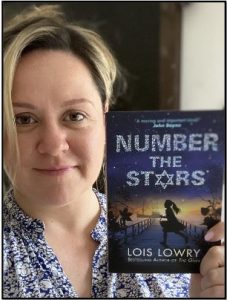 The Weirdstone of Brisingham by Alan Garner
Hi my name is Mrs Henshall Davies. I would recommend The Weirdstone of Brisingaman by Alan Garner.
I love this book because it follows 2 children that help a wizard find a magical stone. It is special to me as it takes place in Alderley Edge which, where legend has it, Merlin is sleeping in the caves in the area, ready to save the world when it is needed. The places he mentions are places where I used to play as a child and today I still walk there today.
Face by Benjamin Zephaniah, Caught Beneath the Landslide by Tim Rich & The Body, A Guide for Occupants' by Bill Bryson
'Hi, I'm Mr Seddon and I would recommend the book 'Face' by Benjamin Zephaniah. It is a roller coaster of a book with some challenging situations which have real life consequences.
---
However, for those drawn to non-fiction and lovers of Manchester City, you could read 'Caught Beneath the Landslide' by Tim Rich. This is a behind the scenes look at what happened to Manchester City before all of the money and success arrived. A true fan would love this book.
---
My final recommendation is 'The Body, A Guide for Occupants' by Bill Bryson which is a book all about the human body. It is a science tale but with plenty of humour based around who we are as humans and how best to maximise the body we have.