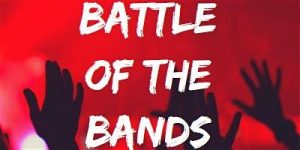 As some of you will be aware we have a Year 10/11 Rock band called 'Banned'. They applied for a place in the Bolton Music Service 'Battle of the Bands' competition and we've just heard that they have been given a place to perform on the night.
The 'Battle of the Bands' event takes place at The Roundhouse (Kenton Close, Bolton, BL1 3TZ) on Tuesday 7th February at 7pm. There will be an invited adjudicator who will give each band helpful feedback at the end of the evening. He will also choose the overall winning band who will go on to perform at the impressive 'Manchester Academy' venue as part of the Greater Manchester Music Hub's Showcase event on Sunday 12th March.
Members of our school Rock Band 'Banned' are.
Jake Lane – Lead Guitar
Joshua Poynton – Keys
Mia Greenshields – Electric Guitar
Laura Melbourne – Bass Guitar
Sophia Magari – Singer
Toby Belfield – Drum Kit
They have chosen to play the following two pieces,
Sweet Child O' Mine – Guns N' Roses
You Really Got Me – Van Halen
Tickets are required for all audience members and they are now on sale using the link below. They cost £5 for adults, but are free for students (under 19) who must be accompanied by an adult. You cannot turn up on the night without a ticket!
It would be great if any friends and family are able to attend!