Following proposals from Sir Kevan Collins we want to create the capacity to provide a recovery curriculum that helps students develop academically, socially and emotionally
TIME: To give students more time and greater access to Enrichment opportunities and our Life Chances programmes so they can experience opportunities they have not had through the pandemic. To give students in Year 11 additional time so they can prepare adequately for the rigours of GCSE 2022.
TEACHING: To focus intently on teaching strategies to improve students' learning to ensure they receive the best learning experiences. Our students have given extremely positive feedback about how our 3 session day is supporting their learning.
TARGETTED SUPPORT: To provide specific targeted support to students who need it both academically, socially and emotionally. Mentoring programmes will be established to support students both before school from 8.30am and after school from 2.45pm.
What will the day look like for each Year group?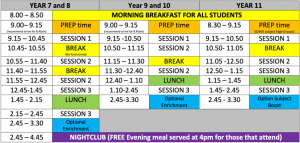 Morning Breakfast: A choice of breakfast dishes are available for students to purchase who arrive from 8am every day.  Breakfast will be fuel for the day to support students' concentration and focus in sessions.  Students play a role in helping us shape the menu with a focus on foods that will support their learning.
PREP Time: PREP time will ensure students are well prepared for learning that day.
Achievement points will be reviewed every day and students will be rewarded daily for upholding the school values and helping every person achieve things they never thought they could!  Equipment checks will take place every morning to ensure there is no wasted learning time in students' sessions.
Optional Enrichment: Students will have the opportunity to sign up to an Enrichment experience every half term.  Enrichment experiences will occur every night of the week with the exception of Wednesday.  Students will be able to sign up to experiences from mountain biking, to 'Bake off' to FIFA club, to Duke of Edinburgh, to industrial standard first aid courses.  We will ensure Enrichment is timetabled to allow students to attend more than one per week if they would like to.
Nightclub: Nightclub is an opportunity for students to complete their retrieval practice strategies (homework) for their low stakes quizzes, to prepare for tomorrow's sessions or simply to come and read a book.  Students that stay after 4pm will be given free refreshments before they go home.