Today we launched our new Proud Wednesdays praise initiative.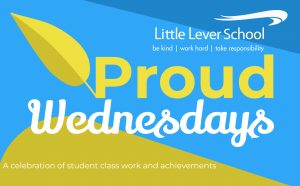 Every Wednesday lunchtime, students have the opportunity to bring along a piece of work or an achievement they our proud of to our Proud Wednesdays desk in the library, run by a member of our Senior Leadership team.
Here they can show their work, say why they're proud of it and receive recognition for it.
Students receive a postcard to take home, a small gift, 10 Work Hard: Proud Wednesday achievements points and their name added to our permanent Proud Wednesdays display in the library.
Here's some of the students who wanted to have a picture taken with their work. Well done, we're PROUD of you all!