Please see the posters below listing the winners of our Reading Routes challenges below. Many congratulations to them! To find out more about our Reading Routes curriculum, click on this link to our Reading Routes page…
Reading Routes Raffle
For every book that a student reads in a term, they get a ticket to the raffle. Autumn term's winners for the Reading Routes raffle will take home some Amazon vouchers to treat themselves to something over Christmas (maybe some more books!). Remember for the Spring Term, the more books you read, the more tickets you get.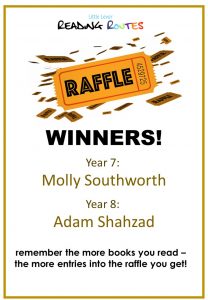 Our Epic Voyagers
Congratulations to these students have completed their first "Genre Route" and read all 5 books. A massive achievement and great start to the scheme! Can they do it for every route and unlock the rare LEGENDARY EXPLORER achievement?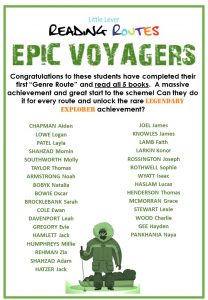 The 100 Club
7P1 were the first class in the school to read 100 books and join the Little Lever Reading Routes "100 CLUB". Well done guys!